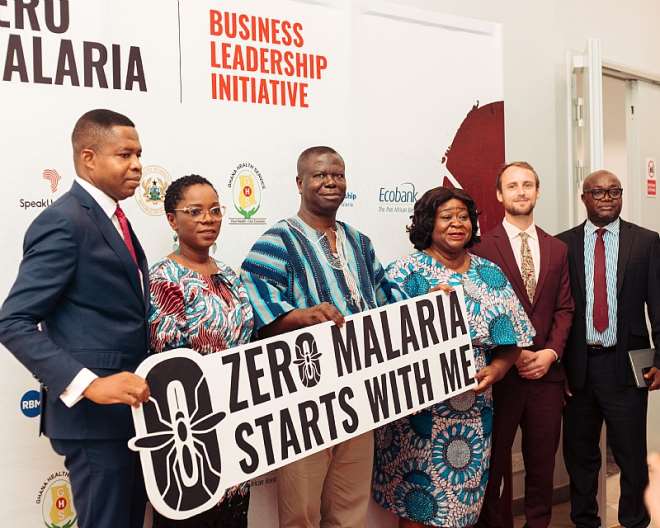 ECOBANK LAUNCHES THE ZERO MALARIA BUSINESS LEADERSHIP INITIATIVE IN GHANA
Ecobank Ghana, in partnership with Speak Up Africa, National Malaria Elimination Programme and other partners have officially launched the Zero Malaria Business Leadership Initiative (ZMBLI) in Ghana today, under the auspices of the Ministry of Health.
Ghana, thus, joins Senegal, Burkina Faso, Uganda, and Benin, becoming the second Anglophone country to launch this exciting initiative. In Ghana, this will boost prior national private sector engagement efforts such as the Private Sector Malaria Prevention programme (2014-2017) and the Zero Malaria Starts with Me campaign (April 2019 – present). The objectives of ZMBLI are to drive private sector contributions to the goal of malaria elimination, to create a network of private sector champions and to strengthen national coordination mechanisms. 

According to the World Malaria Report 2022, there were 247 million cases and 619 000 deaths from malaria globally, over 95% of were in Africa. Children under 5 years old account for approximately 76% of the deaths, with 1 child dying from malaria every 2 minutes on average.  
In a speech read on his behalf, the Honourable Minister of Health, Dr Kwaku Agyeman Manu, stated that: "Although there is progress made in the fight against malaria in Ghana, Malaria continues to constitute a major public health crisis. It is the number one cause of outpatient department (OPD) attendance and is a major cause of hospital admissions. Malaria exerts significant financial burden on our National Health Insurance Scheme (NHIS) and it is estimated to costs the country 1-2% of Gross Domestic Product (GDP), and businesses about US$6.58 million annually. We are proud to have the support of Ecobank and the Ghanaian private sector joining the Ghana government in ending this crisis."
The private sector plays a crucial role in the fight against malaria and clearly has a particular interest in being part of the solution. Malaria has a significant impact on businesses and the economy, leading to reduced productivity, increased healthcare costs, and a burden on the workforce. By investing in malaria prevention and elimination, the private sector not only contributes to the well-being of their employees and communities but also ensures a more conducive environment for sustainable business growth.
The African Union and the RBM Partnership to End Malaria launched the pan-African Zero Malaria Starts with Me movement across the continent in 2018. Adopted by 55 Heads of State and African governments, 27 countries have since launched the campaign nationally, igniting a grassroots movement that seeks to engage individuals, communities, political leaders and civil society organizations to take ownership of the fight to end malaria. To support the private sector engagement pillar of this campaign, the Ecobank Group and Speak Up Africa, a policy and advocacy action tank, launched the Zero Malaria Business Leadership Initiative in 2020.
Dr Corine Karema, interim CEO of the RBM Partnership to End Malaria added: "For the world to end malaria for good, all sectors must be fully involved in the fight against malaria. The private sector is a powerful ally in the malaria response. I urge all private sector companies to conjoin efforts with countries and all stakeholders to invest in malaria elimination. This entails the integration of the fight against malaria into their corporate social responsibility plans. It's time to deliver zero malaria NOW!"
Like most malaria-endemic countries, one of the major obstacles to achieving malaria elimination in Ghana is the significant funding gap for the full implementation of the National Malaria Elimination Programme's National Strategic Plan (NSP 2021-2025). The current malaria shortfalls in funding worldwide require urgent actions from all sectors.
Speaking to the contribution by Ecobank, Dr Edward Botchway, Executive Director and Head of Consumer Banking said: "The private sector is deeply affected by malaria, through absenteeism, lower purchasing power and lower GDP. Through the launch of the Zero Malaria Business Leadership Initiative, we are calling on private sector compagnies to invest and implement innovative strategies to help end malaria in Ghana. Ecobank Ghana is, accordingly, announcing a matching fund of USD120,000 to motivate other private sector companies to also contribute to support the work of the existing National Malaria Advocacy Committee to ensure all efforts are aligned with existing national plans and priorities".