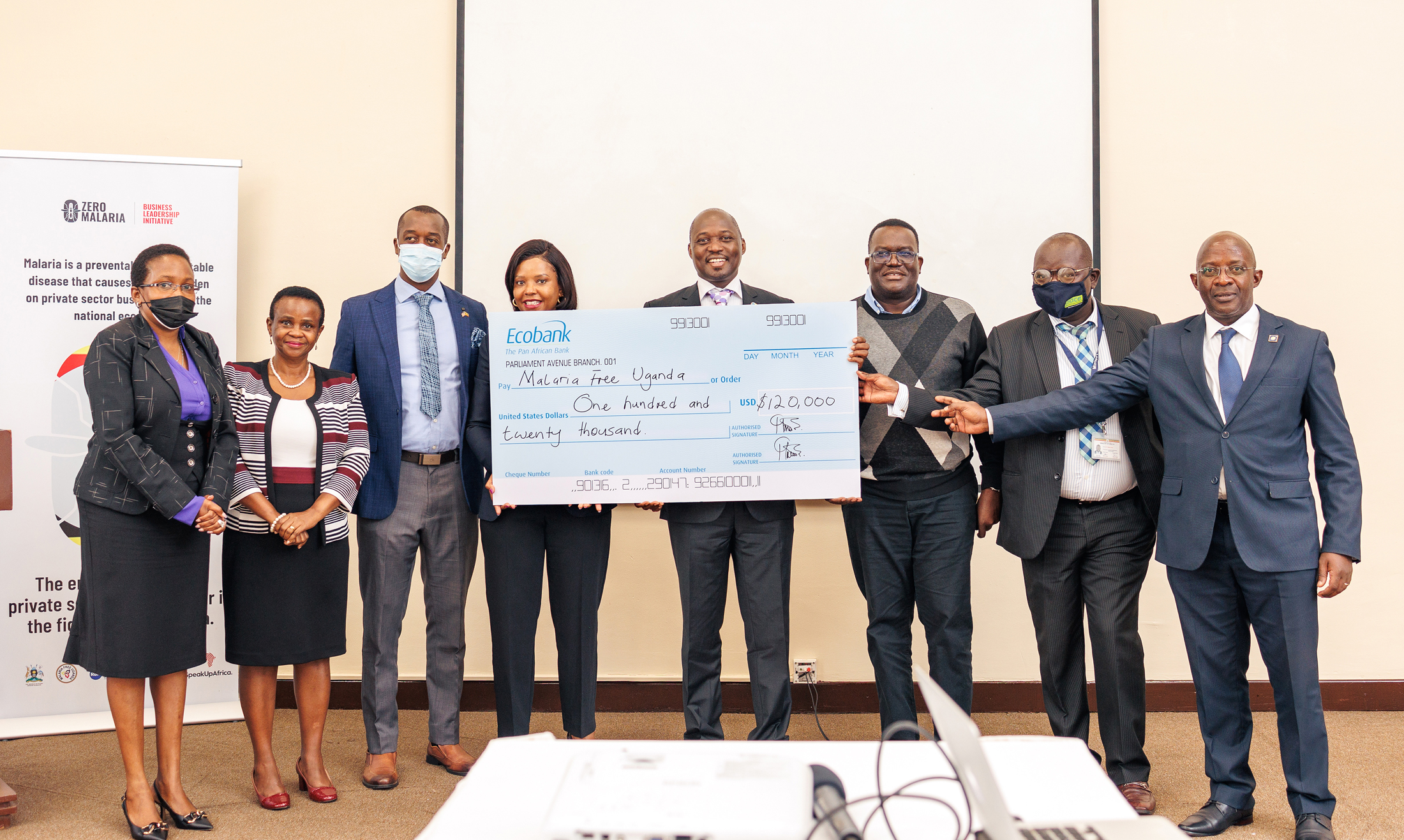 Ecobank launches Zero Malaria Business Leadership Initiative as it joins Malaria Free Uganda with a USD 120,000 fund
March 30, 2022 – Today, Ecobank Uganda confirms its commitment to ending malaria by launching the Zero Malaria Business Leadership Initiative (ZMBLI) in Uganda and joining the Malaria-Free Uganda board, announcing a contribution of $120,000 USD.
The aim of the Zero Malaria Business Leadership Initiative is to mobilise private sector companies in the fight against malaria in Africa in order to achieve a malaria-free continent within a generation.
This initiative is part of the continent-wide Zero Malaria Starts with Me campaign, launched in 2018 by the 55 African Heads of States at the 31st African Union Summit in Nouakchott, Mauritania. The Zero Malaria Business Leadership Initiative supports the private sector engagement strategy of this pan-African campaign, and is currently being implemented in several countries, including Benin, Burkina Faso, Senegal, Ghana and Uganda, in partnership with Speak Up Africa and the RBM Partnership to End Malaria.
Welcoming the launch, Dr. Abdourahmane Diallo, CEO of the RBM Partnership to End Malaria declared that: "We celebrate the launch of the Zero Malaria Business Leadership Initiative in Uganda as another giant step forward in the movement to end malaria. It is crucial that we increase malaria funding and expand the effort beyond the Ministry of Health and international donors, especially by harnessing the power of the private sector."
Understanding the importance of building on existing efforts and supporting existing structures, in Uganda, Ecobank is implementing this initiative as part of Malaria-Free Uganda (MFU), the national structure authorised by the Ministry of Health with the responsibility for multisectoral mobilisation for the fight against malaria in Uganda.
Indeed, launching the Zero Malaria Business Leadership Initiative and joining MFU represents a convergence of aspirations between the partners and a strengthening of ongoing efforts. As Mr. Kenneth Mugisha, the MFU Board Chairman, remarked: "The MFU is honored to welcome Ecobank, under the leadership of Ms. Muliisa, to the MFU board. Ecobank is setting a strong example by not only contributing financially but also committing to work with us to mobilize others to join the cause."
The Ecobank Uganda Managing Director, Ms. Grace Muliisa, stated that: "As 'The Pan-African Bank', we are committed to finding home-grown solutions to urgent public health and development issues. We are honoured to join the distinguished Malaria-Free Uganda board. To show our commitment, we are pleased to announce a contribution of USD 120,000, which we hope will inspire other companies to contribute to achieving a Zero Malaria Uganda."
There is an urgent need for new partners in the fight against malaria, which continues to affect millions of people in Africa. Despite decades of progress, it remains one of the continent's deadliest diseases. In Uganda, it was responsible for 21,699 deaths in 2020 (up from 17,766 in 2019) and 12.9 million cases.
Furthermore, the impact of malaria on African communities goes far beyond health. As Dr. Jane Ruth Aceng, Uganda Minister of Health explained: "A single episode of malaria costs a family, on average, $9 USD or 3% of their annual income, and each episode results in 1-3 weeks of missed work. Moreover, estimates show that that Africa loses roughly 4.3 billion workdays and 1.5 billion school days due to malaria annually, and that GDP growth is reduced by 1.3% in malaria endemic countries. Malaria has an overwhelming toll on economic productivity, business costs and human capital development, making it a top priority for the Government of Uganda. I am therefore pleased to extend my gratitude to Ecobank for their contributions and to welcome them to the Malaria-Free Uganda board."
Unfortunately, malaria attracts limited attention and funding has stagnated in recent years. The World Health Organization (WHO) estimates that an extra US $10 billion is needed to implement national strategic plans for malaria control in 30 African countries over the next three years, again underscoring the importance of private-sector engagement. Ecobank is rising to the challenge with a firm belief that the malaria fight is a whole-of-society responsibility, and is therefore committed to being at the forefront of developing innovative and sustainable funding solutions.
Echoing the call for society-wide responsibility, Ms. Yacine Djibo, Executive Director, Speak Up Africa, concluded that: "Everyone has a role to play in the elimination of malaria, and this is exactly what the Zero Malaria Business Leadership Initiative embodies. Private sector participation is key: Ecobank and their new partners within Malaria-Free Uganda, are business leaders that are perfectly situated to bring more like-minded partners and resources to the table."
Media Contacts:
Aubrey Agaba – Malaria Free Uganda - aubrey@malariafree.ug
Charity Kamusiime – Ecobank Uganda - Ckamusiime@ecobank.com
Christiane Bossom - Ecobank Group - groupcorporatecomms@ecobank.com
David Mulabi – Speak Up Africa – david.mulabi@speakupafrica.org
Maella Ba – Speak Up Africa - maelle.ba@speakupafrica.org
Notes to Editors
About Ecobank Transnational Incorporated ('ETI' or 'The Group')
Ecobank Transnational Incorporated ('ETI') is the parent company of the Ecobank Group, the leading independent pan-African banking group. The Ecobank Group employs over 15,000 people and serves about 20 million customers in the consumer, commercial and corporate banking sectors across 33 African countries. The Group has a banking license in France and representative offices in Addis Ababa, Ethiopia; Johannesburg, South Africa; Beijing, China; London, the UK and Dubai, the United Arab Emirates. The Group offers a full suite of banking products, services and solutions including bank and deposit accounts, loans, cash management, advisory, trade, securities, wealth and asset management. ETI is listed on the Nigerian Stock Exchanges in Lagos, the Ghana Stock Exchange in Accra, and the Bourse Régionale des Valeurs Mobilières in Abidjan. For further information please visit www.ecobank.com.
More information about Ecobank can be found here:
About Speak Up Africa
Headquartered in Dakar, Senegal, Speak Up Africa is a strategic communications and advocacy organization dedicated to catalyzing leadership, enabling policy change, and increasing awareness for sustainable development in Africa – particularly around issues such as sanitation, immunization, malaria and Neglected Tropical Diseases (NTDs).
More information about Speak Up Africa can be found here:
About the RBM Partnership to End Malaria
The RBM Partnership to End Malaria is the largest global platform for coordinated action against malaria. Originally established as Roll Back Malaria (RBM) Partnership in 1998, it mobilises for action and resources and forges consensus among partners. The Partnership is comprised of more than 500 partners, including malaria endemic countries, their bilateral and multilateral development partners, the private sector, nongovernmental and community-based organisations, foundations, and research and academic institutions. The RBM Partnership Secretariat is hosted by the United Nations Office for Project Services (UNOPS) in Geneva, Switzerland.
About Malaria-Free Uganda
Malaria Free Uganda (MFU) is a public-private initiative established by the Ministry of Health to support the National Malaria Control Division (NMCD) and its partners to eliminate malaria in Uganda. MFU is an independent, non-profit foundation incorporated in Uganda and is country-led and country-owned for the benefit of all Ugandans. MFU engages several stakeholders largely in private sector, Ministries, Departments and Agencies (MDA's). MFU seeks to help address gaps and bottlenecks that impede the implementation of the National malaria strategic plan and the achievement of a malaria-free Uganda through advocacy, resource and action mobilization, technical assistance as well as mutual accountability. MFU seeks to avail private sector a multisectoral collaboration framework and platform with NMCD in addressing program's intervention.